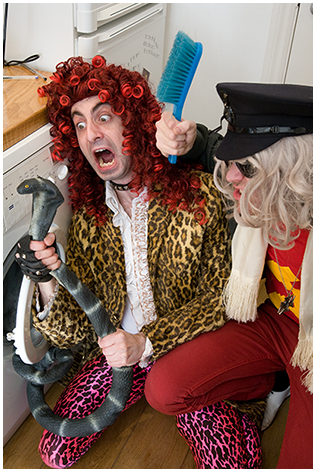 Read the story of a true Rock Icon!


Dave Wildman Pickles, former lead singer of the crown princes of air guitar, Lucifers Grandmother, twice UK Air Guitar runner up, leader of the successful attempt on the World air guitar record and part-time worker in Tesco.

Dave has dedicated his life to rock and has indeed been referred to by himself as a legend on the scene.

The high/low point of his career was when he blew up a judge in the UK Air Guitar Championships following a pyrotechnic mishap. The flambéed judge, not seeing the funny side, threw Dave out of the Championship, prompting a near riot from the crowd. In the face of people power the band were re-instated, only to come 2nd behind a prat dressed as a farmer. Dave still bears the scars of this harrowing event. The year after he came 2nd again, but it's something he doesn't like to talk about.

Now Dave has built his dream... A temple to rock and air guitar. It was fortold to him in a dream when the ghost of Justin Hawkins of the Darkness came to him and whispered, 'Build it and they will rock'. So Dave flings open the doors and asks you to set your air guitars to eleven, slap on the pan-stick and wee yourself with rock-like excitement as Dave teaches you how to become an air guitar legend!

Those of us about to rock, we salute thee!