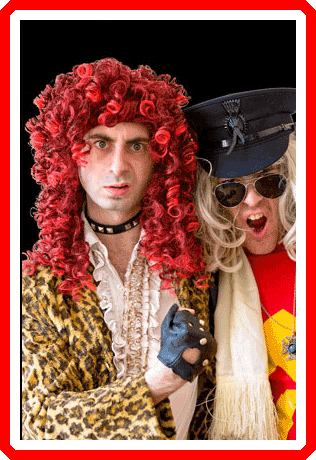 For those who are about to rock... we salute you!


Welcome to the wonderful world of The Legendary Dave 'Wildman' Pickles, as seen at the Isle of Wight Festival, Reading Festival and probably any other huge arena near you.

We're sure you will have heard of Dave, as he is twice runner up of the UK Air Guitar Championships. But no one likes a winner, which is why Dave lost twice and then set fire to the judge with his over the top pyrotechnics.

Dave is now semi-retired and in between stacking shelves at Tesco has decided to teach the whole world how to be rock gods. Yes, you, the humble office worker/bus driver/MP for Cheltenham could become an air guitar hero with Dave's easy guide to rock stardom!

In several easy to master steps, Dave will teach you how to become a legend like him. But be warned, this course is not for the faint-hearted, and lovers of MOR should turn away and have a cup of chamomile tea. Dave needs only true disciples, for many are called but few are chosen (and even fewer are actually any good). Strap yourself in, because it's going to be a bumpy ride...

Want rock now? Then click here to see the moment when Dave led his successful attempt for the Guinness World Record for most simultaneous air guitarists! Or, click here to see some of Dave's previous work.