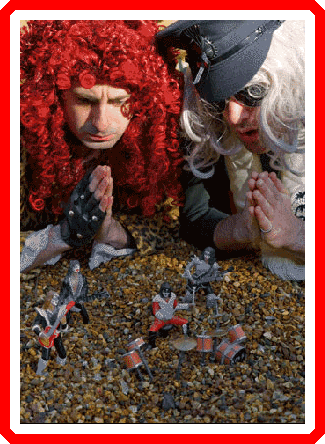 What sort of tunes will Dave be teaching to? Do you need to ask? Only some of the finest rock ever from names such as:

Aerosmith, Queen, Def Leppard, Deep Purple, Bon Jovi, Thin Lizzy, Bonnie Tyler, Guns 'N' Roses, Whitesnake, Meatloaf, ZZ Top, Alice Cooper, Europe, Led Zeppelin, Iron Maiden, Jimi Hendrix, Van Halen, Rainbow, Mötley Crüe, Blue Oyster Cult, Nirvana, Kiss, Bryan Adams, Bruce Spingsteen, The Eagles, Radiohead, Rammstein, Free, The Beastie Boys, The Rolling Stones, The Scorpions, The Darkness, Dire Straights, The Clash, Carter the Unstoppable Sex Machine, Boston, Muse, Black Sabbath, Pearl Jam, Lemonheads, Hole, Alice in Chains, Cream, Eric Clapton, Fleetwood Mac, Ozzy Osbourne, Red Hot Chili Peppers, Santana, Genesis, Slade, Smashing Pumkins, Reef, Metallica, Dio, ELO, Rolling Stones, Blink 182...

The list goes on and on, as we worship the heroes of rock on our hands and knees and with heads bent in reverence!